Press
Back >
Jim Prescott Quintet Plus One at the Caravan Campfires
June 25, 2016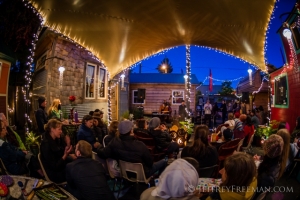 Jimijazzmusic is pleased present the Jim Prescott Quintet Plus One this July 13th at 7pm for the Caravan Campfires Summer Concert Series in the lovely Tiny House Hotel on Alberta Street here in Portland Oregon.
We have put together a special large ensemble with the fabulous Noah Bernstein on alto and soprano saxophones joining Brian Myers on tenor and flute with Jonathan Roberts on trumpet. In the rhythm section we'll have Dustin Lanker on the electric grand piano joining Prescott (bass) and the inimitable James West on Drums.
We'll be playing our vision of jazz, both as the American Classical tradition and contemporary popular music. Compositions by Joe Henderson, Charles Mingus, John Coltrane, Dave Holland, Wayne Shorter and Miles Davis will be presented along with a standard or two and a few original compositions. Our arrangements will range from traditional to progressive - across the spectrum of swing, from the late fifties into the new century.
Jim Prescott, best known as the longtime bassist for G. Love & Special Sauce, leads his trio every Sunday at Loon Neighborhood Bar, and occasional larger groups such as this.
Drummer James West has been a fixture in the creative music scene in Eugene and the greater Willamette Valley for nearly two decades. His ability to apply new textures with an ear for melding the contemporary with the traditional have provided him with opportunities to perform, tour and record with some notable artists including John Zorn, Michael Manring, Carlos Vamos and Justin King. He's performed and recorded with Portland artists Sean Flinn, Leo London (The Domestics), Tractor Operator, Ferocious Eagle, and Asher Fulero and has toured in supporting acts for Diana Krall, B.B. King and James Taylor.
Dustin Lanker is a Portland-based keyboard player and composer with jazz roots but a career made in pop and rock. Past notable projects include indie prog-pop band The Visible Men, free jazz metal band 100% Chips, and his janky Russian discotheque alter ego, DJ Out of Wedlock. He is also known for his collaboration with Fat Mike of the band NOFX on the AVN award-winning soundtrack to the silent adult film Rubber Bordello.
Noah Bernstein is a saxophonist/composer active in the boundless expanses of the Portland, OR music scene and can be seen performing regularly with his instrumental hip hop/free jazz duo GRAMMIES and R&B dudes Shy Girls. In 2011-12, he toured extensively with tUnE-yArDs in support of their album "Whokill." He holds degrees from the Oberlin College and Conservatory in jazz saxophone performance and creative writing. Bernstein grew up in rural Vermont. He carries with him its brooding forests and rolling hills wherever he goes. noahbernstein.bandcamp.com
Jonathan Roberts is a pianist and trumpet player living in the Pacific NW. His past projects have included the NYC based afro-beat band ASIKO, the Philadelphia soul band The York Street Hustle, and the new-acoustic band The Confirmation Bias, with Philadelphia banjoist Cameron DeWhitt. His primary current project is the hip-hop band Eastern Sunz.www.jonathancraigroberts.com
Captivated by the idea of space flight Brian Myers was deeply taken with Star Trek throughout the 90's. Schoolwork was shunned and the world tuned out to facilitate a land of pure imagination in which all external stimuli could be rearranged to plausibly conform to the rules of Roddenberry's imagined future for mankind in space. Misidentifying Commander Will Riker's trombone for a saxophone Brian lobbied his parents for a horn and lessons beginning a journey through space and time stretching over twenty years now. He returns to Portland after a two year absence which saw great amounts of travel, performance and close study with some of the regions best saxophonists.
Wednesday July 13th 2016, 7pm:
The Jim Prescott Quintet Plus One at the Caravan Campfire Concert Series
The Tiny House Hotel at 11th and Alberta St.
(5009 NE 11th Ave, Portland, OR 97211)
http://tinyhousehotel.com/Caravan-Campfires-Songs-S-mores
Comments