Press
Back >
Special Show! April 4th at Alberta Street Pub W/ Kellen Asebroek
March 25, 2021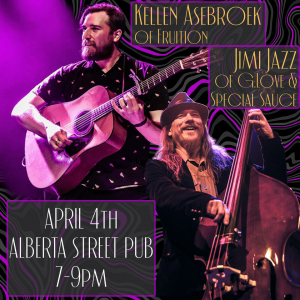 After a year of pausing touring and live music performance, it's time to get back to it!
Fortunately the Alberta Street Pub is doing outdoor/covered and socially distant shows.
On April 4th from7-9 PM, Kellen Asebroek of Fruition and Jimi Jazz of G. Love & Special Sauce will be playing together for the first time ever.
Expect Fruition originals, G.L.A.S.S. originals, and some select covers.
Alberta Street Pub will be making tickets available for sale tomorrow March 25th, so check here for tickets https://www.albertastreetpub.com/music
jhp
Comments