Press
Back >
Winter Tour with G. Love & Special Sauce
December 28, 2016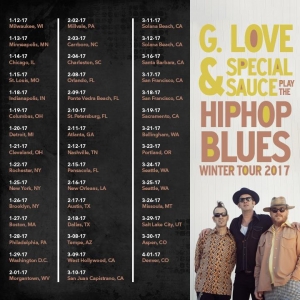 The second leg of the "G. Love & Special Sauce Play The HipHop Blues Winter Tour 2017" was announced today via social medias. The original trio will be heading up the West Coast after a five and a half week run in the East that includes most major markets.
The Western dates include two night stands in Southern California, San Francisco and Seattle and conclude inland in Denver on April first.
Sources close to the band report that they'll be adding songs from the Electric Mile era to the set.
G. Love is currently in Hawaii doing a solo run for New Years. Sources close to the band say that he really aught to take his band with him next year.
Comments