Blog
Back >
. . . and the Living is Easy!
August 01, 2016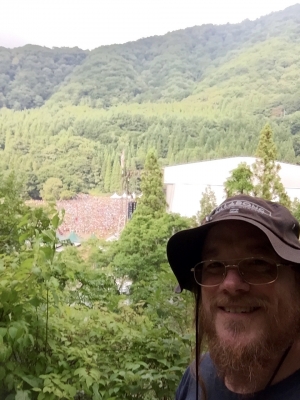 I hope you're having as much fun and relaxation this summer as I am. July is always a celebration around here. But it's actually bitter sweet this weekend, because the Rest and Relaxation portion of my summer is over. Tomorrow I fly out on tour, that's coming up on five weeks on the road. I love it, and am looking forward to it, but you know, I'm gonna miss my dog and my wife and my home.
I'm also going to miss all the jazz I've been playing since I got back from Winter tour. While my jazz series at Loon continues without me, I had a superb run of Sundays with my Trio, Brian Myers and Luke Bonham - and all the special guests who sat in. Man, I really think we got to some special places in the music, it built to a loose and familiar but exalted manifestation that last Sunday I was there. Portland is an incredible jazz town, if you didn't know. And while I truly hope these performances are pleasing, entertaining and psychically nutritious to watch, it is absolutely healing, refreshing and invigorating to be inside of the creation.
That was the specific purpose of my 'large group' performance this season. I was so pleased to present a sextet at the Caravan Campfires this year, and I really hope to present this group on a regular basis. I feel it's my patriotic duty to play this music - jazz. And engage in the non-verbal tradition that is so important to our society. It's my duty to present the sounds I hear in my head, you know, and I feel like this action is the path forward, to peace.
I don't feel that music is inherently or necessarily political, but that the non-verbal values that jazz embodies need to communicated to our body politic. Subconscious alterations in all of our thought patterns are critical for bypassing (by being aware of, but averting our gaze from) the car wreck of Fascism happening in the south bound lane. That's why I still play Fables of Faubus by Charles Mingus. The first time I played it was at a Unitarian church in Berkeley CA. It's an amazing piece of music that will live on in continued interpretation, and a perfect anthem of any movement of liberation.
Last Sunday I missed the jazz here in Portland, but was rocking out in Japan at the Fuji Rock music festival. We played one of the larger stages Saturday but Sunday we were in a crazy wooden (like, was it portable?) circus tent thingy that was in the carnival section. We rocked out hard and set them up to rage all night. I remember I was there partying late night one year, with Brian from Space-shower, and it was just after Joe Strummer had died, and there was a giant and supremely weird sculpture tribute to him, and I think, I learned through broken and super-high english that that was where he camped every year. Right in the center of the all-night rave. We were going off in those days. It's one of those parties that's so much better in retrospect and was really more like a scene from Steppenwolf (Herman Hesse).
If you follow my instagram or whatever you know I was enamored with Baby Metal, who I looked forward to seeing there at Fuji Rock since I saw them on Colbert. I also saw the Robert Glasper Experiment (on the same stage!) and his drummer Mark Colenburg was sick. That is some cool shit, making jazz out of hip-hop instead of the other way around. They got a great reception even playing on the White Stage, in the middle of a bunch of Japanese post-metal freakiness. I wanted to check out Kamasi Washington, but they where at the other end of this massive festival when we played.
Anyway, now I'm packing it up and getting ready for the non-stop mobile party that starts next week. We're hitting a handful of festivals and a couple sheds with Blues Traveler and The Wallflowers occasionally. Just like back in the day, we'll be getting our blues on. As usual, I'm not really sure what's what on the tour, so be sure to check on our playing time if you're coming to see us.
Portland OR, absolutely beautiful.
Photo - the author above the Green Stage, Fuji Rock Festival, Naeba Japan.
Comments