Blog
Back >
​Autumn Listenings II
October 29, 2019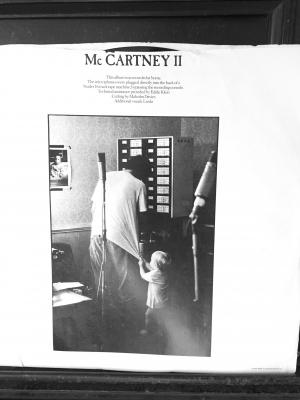 Had a sweet gig with the Special Sauce this weekend at Hulaween down at the Swanee in Florida. You should dig it if you're ever down there, it's like a permanent festival grounds. They do ten or so festivals - long weekends generally - a year. We had a nice crowd and the weather held. I was kinda worried that it would pour for our set, but it was hot and sunny. In fact G was sweating his ass off, but I was thankful my side of the stage had a little shade.
Anyway as y'all know, when I get home I like to just chill out at the piano for a little while, and maybe put on a record or two. I try to honor spontaneity in both endeavors - playing whatever comes into my head (on the turntable, or piano if I can!) So today after my toaster dinged, and I was making my English muffin and another pot of coffee, this record by Paul McCartney popped into my head. I love this photo* that's on the record sleeve with a little paragraph of explanation on the recording. (Supposedly bypassing a recording consul, though I'm sure it was mixed through one in a pro studio, and not to be too technical, also leaves out the necessary and interesting to sound-nerds microphone preamplifiers.) But as it says ". . . recorded at home", it's kind of like a protobedroom-recording. It is a true solo effort, in that he actually played all the instruments - pretty cool.
The first track "Coming Up" was a hit, went right to #2 in the UK. This cool vinyl that Jeff got me came with a single of the live version, which was apparently promoted to US radio, and was eventually #1 on the Billboard chart for many weeks.
There's a good bit of synth on the album, in addition to the typical extended rock instrumentation McCartney commands. For sure there is ample use of the vari-speed feature of this Studer tape machine. We used a similar one on the first G Love and Special Sauce record, though we didn't mess with the vari-speed at all, (it was cool to work on such a classic piece of gear, and in the magnetic medium (we switched to digital over the next couple records.))
There's not much else of note on Paul McCartney II, a ballad called "Waterfalls" on side one peaked my ears, but side two digresses into a couple of meandering and dare I say indulgent instrumentals- ditto for the the next track with a bit too much tape delay, and direct-in sounds. Then there's more sped up sounds, particularly annoying on the vocals, made worse by boring middle-age-guy lyrics. The last song pulls it out though, with some lovely acoustic guitar and vocal harmony, with dare I say a bit of Beatlesesque sound.
The live single of "Coming Up" is indeed a cooler track in my opinion, with a hyped up band including a horn section and plenty of energy from the Glasgow crowd. I'm imagining now of a jazz version of it though, maybe with a latin beat like Cal Tjader or even a Talking Heads groove like "The Great Curve."
Back to the piano then.
.
Portland OR, Cold and windy.
Comments