Blog
Back >
Breakfast at the Meat n' Three
September 05, 2014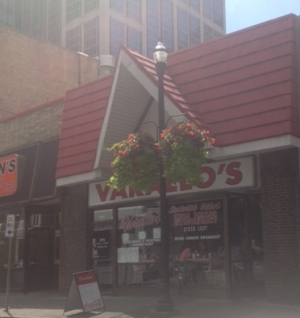 One of the great things about traveling is digging new cultures and customs. When I'm in a foreign land I like to eat where the locals eat and try to look at life from their perspective. For example in a freaky place like Nashville I like to check out a "meat n' three". It's usually a breakfast and lunch place - cafeteria style, the idea being you pick your meat - bbq, fried catfish (which actually looked awesome) or whatever, and then three sides - greens, mac n' cheese, fried okra maybe, you get the idea.
Also, breakfast. Though standing in line I was a little worried I might have missed it, when I got my red tray I had studied the menu, and had observed the proceedings and knew they were gonna cook up my eggs over easy and sausage right in the back to order. I was severely tempted by the catfish, but the guy before me got the last golden piece. I got a side of greens and If I'm not mistaken the gentleman who served me was a little miffed that I didn't get any biscuits or toast. But the lady knew I wanted lemon in my unsweetened tea.
All of the plates were styrofoam and the place really could have used a deep cleaning, but the food was good, and damn cheap. The eggs themselves were a bit bland, I get spoiled on high-end farmers market eggs back home, but they were cooked just right, firm whites and runny yokes. The sausage patties were quite good, cooked correctly and kind of a fine grind - pretty standard fare these parts. I put some extra vinegar and hot sauce (Louisiana) on the collars and they were just right.
All-in-all a heathy breakfast, but the real treasure was the atmosphere, which at just-after-noon was positively bustling. There were several business guys or upscale laborers like myself, eating alone, but not uncomfortable - at the same long table, not too close. A party of four office ladies, a few older couples. It's actually quite like what we called the "greasy spoon" back East, although the menu is completely Southern instead of Greek/old country. I had the double hamburger and french fries every other day when I worked in an office. I'm sure most of the folks I was eating with had their favorites - or their regular order. It's comforting to have the same thing, which is why it never changes. No one wants it different.
People are pretty serious here, friendly enough, but by no means too much. I get the feel - and the truth is I'm pretty much at home anywhere in the US. It's a lucky place to call home, but more because of the differences than the sameness. And to be sure, I'm not the first long-haired-musician to stumble in there looking for breakfast long after breakfast time, it is Nashville after all!
Tennessee Baby, Rather humid for my taste.
Comments