Blog
Back >
​Brooklyn Blog!
January 24, 2017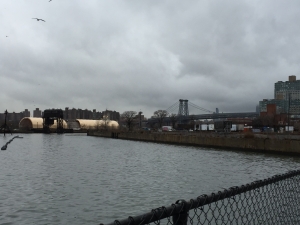 When I'm on tour I never like to stay too far from the bus. I can't really lug my suitcase - which contains five weeks worth of stuff, into the hotel every time we have that luxury. Mostly it's no big deal, the bus is in the parking lot and if you forget your phone charger or vitamins or whatever you can just run down and grab em. And our buses are usually styled out and stocked with snacks and whatnot - satellite channels and such. It's actually quite a nice living room and I absolutely count myself super lucky to be touring this way, even though sometimes, you can't park the bus outside the hotel - like in most bigger cities, like here in Brooklyn.
Our crack management team found some cool parking at a film studio that was apparently somewhat idle, so could accommodate our 65' vehicle (with trailer!) and it's only a couple miles from the hotel, so an easy cab for some, but for me, I grabbed the folding bike and hit the streets of Williamsburg. And pretty much rode up the east side of the East River. I located a wash and fold on the way, boom that makes it a productive day off!
So yea, actually not too bad bike infrastructure here - Kent Ave. has an isolated bike lane, which seemed important, because people drive pretty fast around here. And you know NYC, there's like a truck just stopped and blocking half the road every couple hundred yards. When it's not a protected bike lane that's where the trucks end up - or the cars just swerve into your lane. That's when you'll find me on the sidewalk. No one batted an eye down Bedford, though I almost ran down a couple Hasidic Jews sneaking (I presume) cigarettes.
"Watch your bacon there Rebbi!" I shouted as I rode by.
I kid. But the only real challenge was the weather. I made it up to the hotel yesterday before it started, but today I had to study the radar very carefully. I had to pick up the laundry and make it about another 1/2 mile our so without getting my clean clothes soaked. I did it, and kept pretty dry myself too.
Got down to the bus and grabbed some snacks and a couple kombuchas and then yea, jammed it back to the hotel, just as it started to pour again.
Cool, heading over to Nublue tonight to hear the heavy jazz. I'll take a cab though.
Brooklyn NY, Rain and more rain.
Comments