Blog
Back >
David Bowie
January 12, 2016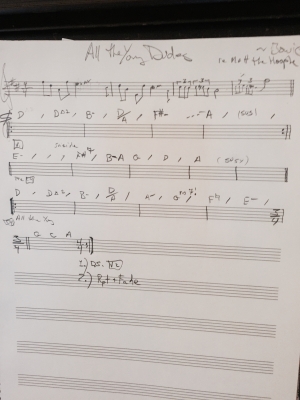 All the Young Dudes is one of my all-time favorite songs. I had it on a Kay-tel record back in the '70s. And when I discovered later, after I had fallen in love with Ziggy Stardust, that David wrote it, it made complete sense to me. Shortly thereafter I saw The Man Who Fell To Earth and l was like wow, this guy embodies a pure essence of art, of rock & roll and everything.
I actually turned to Bowie - all the hits really, as a powerful talisman of inspiration, and a strange centering force while I've been returning to recording with G, and the biz and touring and stuff. I got an Anthology of his songs just before tour last Summer, but these days it's always easier to transcribe it yourself from YouTube.
Man, the news of his death was a shock, I thought for sure it was a hoax. It's a bummer to loose such a fountain of creativity, but I'm thankful that he left us so much music and all. I'm jealous of anyone who saw him live esp. up close, and yea, it's bitter sweet - I've seen a lot of wildly interesting Bowie stuff these last couple of days! And it's heartening that such a true and honest artist will be so widely missed.
Here's my version - https://youtu.be/tIaOzFLLe6M
So yea, this song came to mind as I the news soaked in, and unlike when Lemmy passed and I could put together a passible Ace of Spaces as a mournful ballad that morning, the Thin White Duke gave me a run for my money on this one! His songs are generally pretty tricky, and there's often a odd signature, and always a challenging if subtle key shift. Like in the chorus here, with the F natural at the end. Ha! I was enjoying hitting it as a major 7, though that's probably nowhere on the original. But it's a sad day, and root movement isn't right down, it's hesitant, like we're still not sure, maybe it is a grand hoax.
Anyway, I think I got some emotion in this one. The discipline of the learning, the physicality helps us manifest the positive from a loss. It's a ritual I guess.
Here he is singing it with Mott the Hoople: https://www.youtube.com/watch?v=Rajof9Qigos
Portland, rain, rain . . .
Comments