Blog
Back >
​Happy 2020!
January 03, 2020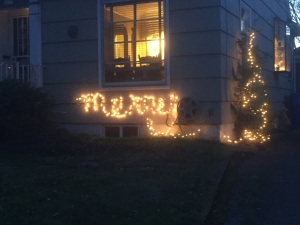 Wow, we made it. I try not to like 'judge' years, but '19 was a tough one. Man, so much political and societal troubles, world wide, as a nation, even out here on the West Coast with our liberal bubble . . . not to mention my personal consternations. It's all connected, but damn, I thought the end of the world would be a lot more fun!
I had a great holiday time though. We got it going at Thanksgiving with some fabulous decadence, and initiated a new tradition - the Day After Eatorama! With mountains of leftovers, some pork tacos made with a new chili recipe - I'm braising in rehydrated chilis blended with spices and what not, oh man so good. We had fabulous contributions from revelers and my friend Emily even helped me put up my Xmas lights (pictured.) They came out cool, even though I don't get up on the ladder and try to hang 'em off my gutters any more.
We headed down to Northern California for Christmas proper with my family, and we brought my best buddy Samba (dog) down too. She loves to hang out and be part of the gang, but she's getting a bit older (I guess we all are) and does a lot of sleeping and resting. But we got out to the beach, and had lot's of treats and attention. That's all any of us really need!
We had a sweet and mellow New Years in a cabin up on Mount Hood, and basically rang it in in the hot tub while my friend Kat sabered the champagne! Tons more decadent treats and two dogs and S put on a great playlist and we jammed and toasted counting down every midnight from Nova Scotia to our own.
Boom! Here we are.
So even though there are a lot of treacherous challenges coming right for us in the new decade, I give thanks indeed for my excellent family and friends, and the rejuvenation and inspiration they provide. My life is pretty dang good, even though I'm not really in the financial position I wanted to be (more than kinda solvent) at this point in my life.
So I'm really looking forward to getting back to work out on the road. We got a good schedule started this year with the usual East Coast and West Coast Winter / Spring run. And possibly Japan and it looks like we're opening for the Avett Brothers at Red Rocks this Summer.
I dig playing for y'all every night out there, and when we kick out a good show, I feel like all the trials and tribulations are worthwhile. I'm getting all the details together, making sure the road bass is working, packing up the suitcase and learning a few of G's new songs from his new album The Juice he recorded with Keb Mo.
You can check it out as well as tour dates over at Philadelphonic.com. Cool.
.
Portland, chilly, high clouds.
Comments