Blog
Back >
​Happy New Year / Poem / Thanks
December 31, 2017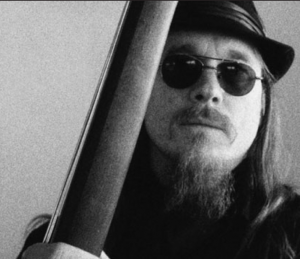 Well, that was quite a year huh? I had a lot of fun and played a lot of music, but Jesus, the political nightmare is so hideous, I can barely speak of it.
And, unlike so many times in the past, I feel like it could really effect me. The class war has come right to my doorstep. There is a wrongness across the political spectrum - rooted in the fear of collectivism, stoked by decades of red-scare, anti-union propaganda that has been internalized in the American psyche. Sad.
This got me thinking of how history repeats itself, and the manner, and the Jungian implications of basic numerology (I am trying to read 'Synchronicity'.) And I found myself thinking - we can't help it, we will do the same things we did 100 years ago, obviously in different ways, but the same basic trends and mass psychologies are in play.
Obviously this year was better than 1917, when Wilson declared war on Germany. But as I was looking that up on Wikipedia I was like, "oh, a declared war, how quant." And I always think Assad looks a little like that one picture of Otto Von Bismarck, you know? It's not causal anyway, it's synchronistic!
Also, the effect is exponential, like all of nature. Which results in a noise component, as the trends crackle over the calendar year. Once I figure out why the aughts are opposite, (because there sure wasn't much of a progressive era around then this time,) I will present my academic thesis, of course! But until then, perhaps this verse is more appropriate.
A Reverse Bubble in Volatility by Jimi Jazz
Bet on it brother.
Every hundred times around,
We do the same damn thing.
Teens are rough,
Twenty's roar,
30s down,
And 40s war.
So while the change will change,
Sometimes exponentially,
Every time we go around the sun we do the same damn thing.
And this year was a damn sight better,
Than nineteen seventeen,
And other trends will overlay,
Synchronistically
Chaotic, ever changing
Evolving as bells ring.
I can't wait 'till 2059,
Then we'll really swing.
----------------------------------------------------
To a swinging 2018 too!
This is a fine time to give thanks of course. I give thanks for my ongoing chillax lifestyle, and for the spiritual and temporal wealth that supports it. Praise Rock & Roll, and all it provides. Amen.
I was so psyched to play some jazz while I'm in town. I played a few things for the season but the highlight for me was playing at the 1905 (http://www.the1905.org/) in a quintet with Brian Myers. Noah Simpson on trumpet and Paul Paresa on piano rounded out our regular trio with Luke Bohnam. We played that cool post bop, verging on contemporary. Brian put together some sweet arrangements by the likes of Gigi Gryce and Tina Brooks, and we played a Joe Lovano head and our a few of our trio regulars from Joe Henderson and Tadd Dameron.
A couple of my originals rounded out a really great evening of music. It's so refreshing and rewarding to perform all this music. And grooving at this level of musicianship, sensitivity and listening is a powerful reward in itself. It's the internal self-illumination of music. Powered by, and in harmony with the room. Man, if you're in pdx dig the 1905, it's a sweet hang with jazz, pizza, cocktails - everything we need! I hope I have a chance to play there again soon.
G. Love & Special Sauce tickets are on sale now. Starting January 11th we're headed to the upper Midwest, back East, Florida and Texas . . . Check out http://philadelphonic.com/tour/ for a show near you!
Pdx, Partly Sunny, 45f.
Comments