Blog
Back >
Inside the Piano
August 20, 2018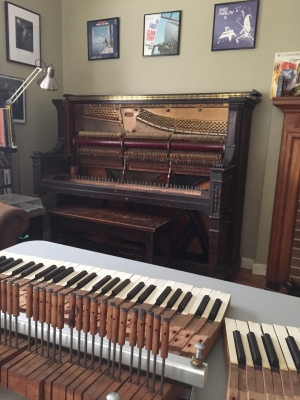 The weird orange haze is back. Last week the winds eventually shifted and we had a cool respite. But it's over today.
Don't tell anyone, but (when there's not smoke) the Summers here are like perfection, warm afternoons, cool nights, never rain but sometimes a morning sprinkle. Now it's a high haze that makes the sun seem perpetually in an off-amber, like it's about to set. Then the air starts to smell, not like a campfire, but of the acrid remains propelled through the atmosphere from far away, eventually becoming just a chemical tinge that burns the eyes and throat.
Anyway, I have declared it Jazz Ramadan, a time for reflection and renewal, and a return to the (tran)scriptures . . . Miles, Monk, Coltrane, Bird and Dizzy - Amen! Forget about eating and exercising, and just listen to some music. I got the complete Miles Davis 1960 Holland sessions on now, with Trane and Wynton Kelly, Paul and Jimmy Cobb. I always though Jimmy Cobb was the unsung hero of that group - always pushing and speaking, staying right with JC as he takes another chorus and pulls the intensity skyward.
I can't play vinyls though, because my piano is getting some work, Bud Willing, and the turntable lives on top of it. I'm having the felts on the keys replaced, so that they don't wobble around so much. This will help the action wobble less as well, and you know, hit all of the strings they are supposed to and not make a racket returning to the rest position. Geese, I wish I could change the felts in my body, now that I put it like that, 'cause then I wouldn't make such a racket returning to the rest position either!
I always miss my piano so much when I can't play it, it's usually how I start my day, after coffee, perhaps while the bacon is crisping. I try to play whatever comes into my head, sometimes, like the Jam of the Week, or something I'm working on, or sometimes just a key and some II/Vs or an exercise. But there's a number of jams I work into from there, making a kind of morning suite or raga.
Yea, sometimes I just have a song in my head like, 'Never Can Say Good Bye' (the one that Michael and his brothers made a #1 hit in 1971), that can easily go into my D minor suite; Yesterdays, Alone Together, Dear Old Stockholm and Nature Boy. Then maybe Georgia or This Land is Your Land, or the Star Spangled Banner, Neil Young's 'Only Love Can Break Your Heart' or, if I'm feeling moody, The Wichita County Lineman (I'll sing it if no one is around.)
I know next week I'm gonna learn an Aretha Franklin number for Jam of the Week. And I've been impressing myself with my growth on Dolphin Dance, I love that one - it's really a deep progression, that kind of nurtures you to a place - ha! Like a dolphin might. I use Epistrophy, by Thelonious Monk - one chorus as fast as I can - as the outro. But then I might give myself a personal encore with Trane's Naima, sometimes very languidly, sometimes just as an expedited coda.
I found myself yesterday just pawing on the disemboweled keys, imagining the chords. They're ivory - this instrument is from the turn of the century, and I was told it probably came (on a ship from NYC to San Francisco) 'around the horn' of South America, because this was before the Panama Canal. At any rate, the ivory is so unlike the plastic on a more current instrument. It has grain and an ever-so individual feel that I cherish. I thank the elephant that gave his life and tusks, well over a century ago.
You know, there are giant storehouses of ivory, and they have to be burned. It's one of the most precious and amazing materials on earth, but apparently if it is utilized in any way, if any trade in ivory is allowed, elephant poaching increases, and they are already on the edge of extinction, so it would be the last straw. I consider that a failure of capitalism frankly. Why can't we just use this amazing material for piano keys? The elephants were already killed. But it doesn't work that way I'm told.
Whew! See that? When I don't get to play my piano, and I'm just looking at the guts of my beloved machine, I can get a little dark. The Miles CD has ended, and it's quiet except a dog barking a few blocks away. I'm going close the windows and put on the ac even though it's not hot. The sky is darkening and it's four in the afternoon, and it smells like burnt sienna.
.
Portland, OR - Gaia seems angry.
Comments