Blog
Back >
Jamuary!
February 05, 2015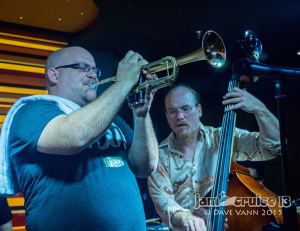 Wow, did January fly by or what? It sure seemed to zip right by out here on the road.
We got right into it on jamcruise13 - what a trip! If you haven't been on one, and you like jam music, you should check it out - it's pretty intense. Everybody goes all-out and it's weirdly curated with additional musicians coming around and doing sit-ins - like Vernon Reed who sat in with us on our second set.
Everybody played two sets and there were a number of different venues aboard - we played out on the pool deck the second night - super fun - but then a couple days later we played in the Black and White Lounge which was like a club setup, and more of a jam situation where we had some deep groves and most of the the sit-in's.
Yea! Vernon Reed as I mentioned, as well as Dan Lebowitz, man, tons of killer player, I lost track actually. Jeff Clemen's buddy Joe Cabral from the Iguanas, sat in with us too, but the real treat was for whoever saw the secret unannounced 007 hit in the Jazz lounge. I missed it but I've seen the group in New Orleans back in the day, Jeff sings old Jamaican 45s - it's a trip.
Then on the last night I had a great opportunity to play with Karl Denson in the Jazz Lounge. Karl put together a number of great players (the amazing Kim Dawson singing Nina Simone's Four Women was an all-to-rare example of how exquisite the jam genera can be) and was kind enough to include me, trading off with Tiny Universe bassist Chris Stillwell and George Porter Jr.(!). Anyway the highlight for me was playing Rahsaan Roland Kirk's track Volunteer Slavery, oh man - Karl is such a trip to go for that one. And a CTI Freddie Hubbard version of McCartney's Uncle Albert/Admiral Halsey. It was a total honor to be a part of that and play with all those heavy cats especially Portland's own Farnell Newton there with me in the picture. Thanks to Dave Vann for the photo.
There was a lot of great music but I'll have to admit to being mostly overwhelmed! Some of the cool stuff I dug - which I hadn't know before as I do Galactic, the Word and the Motet . . . anyway, I was hipped to the DJ Pretty Lights who I caught briefly in full regalia in the theater - indeed there were pretty lights. But I was psyched to hear more in the Black and White lounge where he tore down the wall between live music and DJ with the help of Lettuce.
So yea during all this music people are freaking it in costumes, partying to the hilt and we're cruising top speed - 18 knots or so - across the Gulf through a goodly swell - it felt to me and I didn't even drop acid! Whoo!
So I still needed a few days to recover, but then we were on the road - Phenox LA, SD, Bay Area, Northwest and now we're up in the mountains. I guess it's taken me a while to reflect on the whole thing, at the same time I think the sense of jam is bumping up our set a little bit, and different bits an pieces are starting to appear. I view the little parts as crystallizations of the groove, they grow slowly over time and refract the image of the music. And when they finally line up just right, they make a gem.
Photo © Dave Vann 2015
Boise ID, grey but not too cool.
Comments