Blog
Back >
Legendary Blues Cruise!
October 28, 2018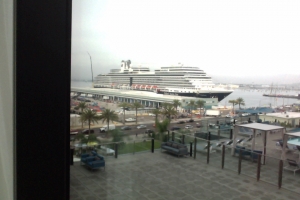 Here's a picture of my home for the next week, Holland American's Eurodam. We're heading down to Baja California on the Legendary Rhythm & Blues Cruise #31. This is the grandaddy of music cruising, and it's non-stop music and fun for a week straight. I'll be performing at least four shows with G. Love & Special Sauce - apparently one show is on the beach!
If you like blues and cruising you should check this out sometime, if you're more of a landlubber perhaps you can check us out at 'Closer to the Sun', which is the same idea, but at resort instead of ship. But they've been doing these cruises for over 20 years and they really got it together, they'll build a stage out on the back deck, and convert the bow bar into a blues club. There's all manner of blues and rhythm, I'm looking forward to seeing Los Lobos - they're probably playing four times as well.
I got to get ready, we're sailing shortly out of San Diego, it's only 60f, but it promises to be warmer down south. I'll probably get emails, but I'm also looking forward to disconnecting from the crazy shit going on in the world and just groove on the tunes for a week.
San Diego, Overcast.
Comments