Blog
Back >
One More Time
September 05, 2015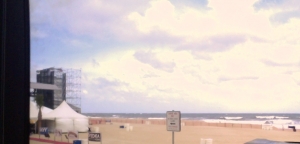 We're holding on to Summer as hard as we can down here in Virginia Beach today. It's the American Music Festival and tonight we'll be rocking a giant stage on the beach. Nothing better . . . as long as you discount any rain coming in on the 20 mph headwinds! I'll have to hold on to the bass pretty good either way. Probably won't bother with my hat.
My straw hat has served me well this Summer, it's a stylie one, I found it in New Orleans a number of years ago. It's nice, I used to wear it for the outdoor weddings, back when everyone was getting married. It's kind of blown out now, touring will do that to ya. I'll have to get a new one for the next outdoor wedding, thankfully I'm getting a little old for such shenanigans.
We're playing in front of the Wailers tonight which is always a treat. Bigdad wants to head over to check out 38 Special on another stage after. That's the fun of festivals right? Checking out shit you might not otherwise. I remember once really enjoying Sammy Haggar at Memphis in May, down on the river. He's singing "I Can't Drive 55" and were careening out of the backstage in a stolen golf cart.
See, a fine drummer I know got all kooked out and body slammed a table, flattened that shit but didn't even break the Mr. Coffee; those were the days. The karma shift was swift, and it wasn't the table, it was more the prevalence of black balloons and the beer was gone, and the vibe darkened like squid ink spreading in shark infested waters.
"I have keys to a golf cart."
What? Our salvation. Flip that switch and whir into the crystalline night. Just beyond the gate, we can look back at the stage and see him, and the hair, the glory, my god, why would anyone drive 55?
Thankfully and again, a little to old for those shenanigans these days, but I'll expect some fun tonight, as long as I, you know, Hold On Loosely.
Anyhow, the water is warm and beautiful and rough for swimming. Frizz was already surfing. The signs say "WATER IS DANGEROUS", indeed, especially in the wrong hands.
The air is somewhat cooler than expected, alas, it is no longer August.
Virginia Beach, VA - dew point in the 70s.
Comments