Blog
Back >
Ready!
March 04, 2015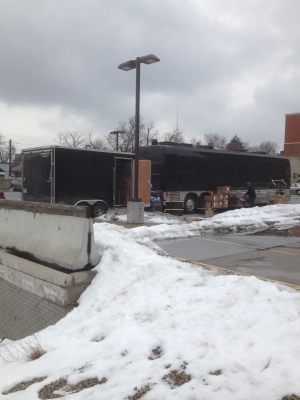 Back at it! After a couple weeks kicking it at home we're back on the bus for the second half of Winter tour. Gar has been doing this circuit, in the first quarter of each year, for a long time. Not a lot of acts tour this time of year, so it's a good time to be out here, but sometimes it's a bit of a slog through the ice and snow.
It's challenging for the crew especially, they have to load in and out through the weather and wetness. The cold is never good for the gear, or for getting your exercise and staying healthy. But it's fun to heat up the clubs, when everyone is ready to get out of the house and party!
We got down last night at St. Andrews Hall in Detroit. It's a real rock and roll room with a fat sound on stage that's not too much. The ladies were swinging' it down front and we got a pretty nice sway going - if I do say so.
We didn't party too much, it's first night of a five week run after all. I got in my bunk after G and I talked about getting the bus bar stocked correctly. Doing it right takes preparation, it's pretty much the whole game out here. Be mentally and physically prepared and the smaller challenges, like the weather, are way easier to manage. Physical preparation isn't that complicated - packing, managing your luggage and instrument and keeping your body healthy. That requires some dedication and acceptance of discomfort. The mental preparation is sometimes a bit more tricky, but I find it works in parallel with the physical.
Anyhow, we're ready to rock. It might snow on us tonight as we roll, but we're ready.
Cincinnati Ohio, overcast.
Comments