Blog
Back >
Tour and ahh, Death(?)
April 26, 2016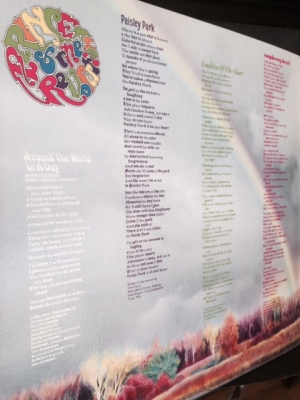 Wow, what a tour! Man, . . . what is happening though? I feel like it was bookended by dead rock stars, first Bowie and now Prince? Plus in the middle I turned an age that makes both their deaths even closer to home and scarier with all the other losses - Fife Dog, Merle Haggard, Lemmy . . . how deep do you want to go?
I hope it's just a statistical anomaly and it's just that all our Rock and Roll heres are getting to a certain age, but I certainly hope it's not the new normal. I saw the meme the other day that 'it looks like 2016 is being written by George R. R. Martin.' (He's the maddeningly unsentimental author of The Game of Thrones, if you don't know, who likes to kill off the favorite characters as soon you start to like them and generally disrupts the narrative with rampant evil.) And it does sure seems like that's the case on many levels, from our horrifically corrupt politics here, the mess in Europe, China is getting freaky, . . . and the Middle East, where an all-to-real Game of Thrones is playing out.
Besides, you know - getting involved in a political revolution*, all I know how to do is rock on. As Leonard Bernstein said "This will be our reply to violence: To make music more, intensely, more beautifully, more devotedly than ever before." That's how classical music people say rock on. And I think we can draw a corollary to all our collective and personal, and even artistic tragedies.
So we closed the G. Love show all tour with Bowie's Suffragette City which was fun and enlightening. And Gar hit some of Fife Dog's lyrics after he passed - I hope we can develop that into a proper tribute this Summer. But, that's all we can do, you know, honor and celebrate their creations, and learn from and propagate their legacy.
But Prince, wow, so unexpected. I must admit that I'm not the hugest Prince fan, appreciating his music more than liking it at the time. I didn't understand some of his aesthetic choices, especially in terms of sounds back in the day. Although he is one of those guys, when you hear one of his hits you might think, "Well the '80s weren't so bad." (Sadly they were quite terrible, Prince not withstanding.) And he was so good and righteous as a performer he couldn't be avoided, and wow, once he got you, you were hooked, infectious grooves and melodies popping up in track after track.
I do have a proper vinyl of Around the World in a Day - I bought it at the original Amoeba Records in Berkeley CA for three bucks. It's the album with Raspberry Beret, but my jam is Pop Life. I think I'll work up a version on the piano.
Portland, OR, Sun then clouds.
*#feeltheburn
Comments