Blog
Back >
​Tour Report #2
February 08, 2020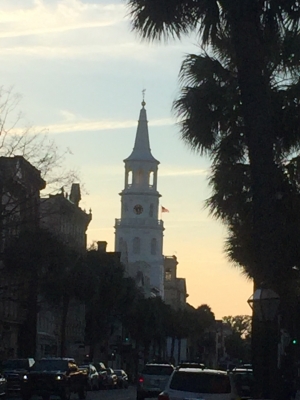 Everyone is getting it together to disembark from the first leg of the tour. Luckily we'll have the same bus next run, and it's just going to the shop, so we can leave a bunch of stuff on here.
It's a well needed break, we're rocking hard down here. We've been making our way South hitting some real Classic Joints, like Stone Pony in Asbury Park NJ, man, what a vibe, just oozing the rock, loud and hot. We had a couple sit-down shows in Annapolis and DC . . . one was cool. But I've just been really digging the old-school rock club vibe, especially with G's new material.
We played a new place up in the Carolina hills there - the Haw River Ballroom. It was cool, you should check it out if you're in that area. We rocked it, if I recall correctly! I know we had a blast down in Charleston at the Music Farm. We've been playing there forever, it's always a gas. Man, I was digging on the city too, biked all around (photo: Steeple Sunset) and actually caught some hipster jazz around the corner there in the evening. A place called Proof was hosting a piano trio from NYC - I noted on my Instagram.
Anyhow then we had a few extra days off, apparently one venue we were supposed to play, well, they just closed suddenly the week before or something. So we headed down to Florida and played at the Beachside Tavern - man we just barely fit on the stage, and it was almost like indoor - outdoor, there were garage doors open opposite, and yea, everybody was having a good time!
Last night we played at a joint called the 1904 Music Hall in Jacksonville FL. Man it was fun - just connecting, Jeffery is just flowing, I may be a bit burnt at this point! But the sound was thumping and everybody was grooving. Garrett is mixing-up the set a bit, caught me off-guard on Beautiful - that one has a lot of issues for me, I never really remember it correctly. Anyhow, we cooked on Never Home, and got deep into the blues with our opener Jontavious Willis sitting in on slide guitar and singing. I was connecting on that one more than ever before.
Tonight is Jannus Landing here. Man we've been rocking this room forever, well not really a room, it's like in the courtyard behind the building, man it's so fun to play, the whole neighborhood goes nuts. We played here on one of our first tours - opening for the Violent Fems, that had to be in '94 or '95. We blasted this place ever since, in the Aughts with Mark Boyce and BroDeeva even perhaps. It's like the ultimate rock club though, it's big enough, but still intimate in a weird, maybe in even a little bit dirty way.
I'm not sure what's up with the Garlic Festival tomorrow, but if the weather is nice it will be fine! We'll rock it for sure.
.
St. Petersburg Fla., Sunny and Warmish.
Comments