Blog
Back >
Tour Report 2020, #1
January 16, 2020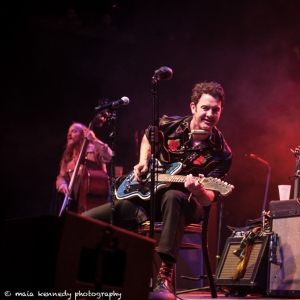 All righty then! First week of shows of the new decade in the books and we're in a fine groove.
We started in Des Moines Iowa and rocked all around the upper midwest here, slipping right into a tight set featuring some new tunes and old favorites.
I dig it out here, I like the cool old venues like the Majestic Theatre in Madison, and Thalia Hall in Chicago. Of course, the First Ave in Minneapolis is like the best rock and roll club in America - we've had so many awesome shows there and this was no exception, the twin cities are like a second home for us. Then we hit up Blueberry Hill in St. Louis which is Chuck Berry's club - we play downstairs in the Duck Room - it's always a good vibe. Chuck used to play there every week and you can feel it.
Then we rolled over to Ann Arbor where we haven't played in a dogs age. That's a cool town (my insta followers know I stopped by the art museum on campus) and we played a real nice place called The Ark. It's a sit-down venue, which isn't necessarily our vibe, though it's getting more comfortable with age. I think it went off, it seems like people focus in more and listen to the music, where as at the stand-up rock and roll clubs everybody is dancing and partying - which is honestly how we started, and what we've been doing for the last twenty-odd years.
Tonight we're here at the Hi-Fi - and if I recall correctly it rocks pretty hard. Tomorrow we'll be in Columbus then up to Cleveland, then we make our way back East. Come on out if we're in your area. As I mentioned we're playing all the favorites, a couple deep cuts here and there, and a few new tunes off "The Juice" - that apparently drops tomorrow.
Thanks to everyone who came out, and all y'all that got your tickets. Your continued support is what makes these tours possible and keeps us rockin'!
Indianapolis, IN - sunny and cold.
Comments