Blog
Back >
Yoko Miwa's Pathways
July 19, 2017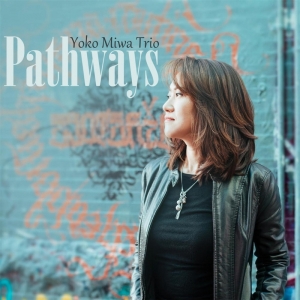 Last week I flew into Boston, on my way to the Special Sauce gig on long island, and had a rare Friday evening free in my old stomping grounds. Which was cool, because I finally got a chance to check Yoko Miwa's trio. They have a weekly at Thelonious Monkfish in Central Square, so I jumped on the red line and headed on up.
I guess it's been a little bit since I've on the street there, it's now a bustling scene, way different than the kind of desolate student-ghetto it was back in the day (who remembers when I rocked T.T. the Bears?). I found the Thelonious Monkfish easy enough, it was about halfway down Mass Ave. towards the Middle East. It's a pretty cool jazz-themed sushi joint, kind of reminded me of Yoshi's - back when I lived in Oakland CA. All the cocktails were jazz themed, so I had the Sun Rah Margarita, which was spicy, with pineapple. I had some hamachi that was quite nice, smooth and buttery, and took advantage of their pan-asian bent with some chicken-coconut soup that was good too, despite the sweet potato chunks that surprised me.
Anyhow, I went to see the music, which was superb - a real nice scene, even though I thought there was a bit much talking during the playing. It was cool though, I enjoyed the jam session afterwards, and really dug catching up with the trio's drummer - and Yoko's husband, Scott Goulding.
Back in the day, Scott hosted sessions in his basement. He was one of the best musicians I knew, and I was supper psyched anytime I was invited. I learned a tremendous amount in those sessions, we all got into 'the Real Book', and for me, it was like a puzzle book - what did all those shapes and chord symbols mean? And a million mistakes. I remember my roommate - a pianist who's playing I admired - would bring pencils, to make notes in our Real Books because Scott would always have the best players with the secret corrections, like the real arrangement to Dear Old Stockholm.
I owe a great deal to Scott and all these musicians who I found - contemporaries, but more advanced than myself. When I was lucky enough to get invited to their sessions, then I would just do my best - just swing 1/4 notes as hard as I could, and pay attention and soak up all their expensive musical education by osmosis! Scott was super generous in this way, and I still have the handout from a drum lesson he gave me.
And it's super gratifying - and rare - to see this talent manifest in a successful jazz act! I took the opportunity to dig their latest record, Pathways. Given certain trends in jazz recording, and the variables of the process, I was a bit tentative. I really dug the live act, but it doesn't always translate to the studio. I loaded it up on my phone, and took Samba out for her walk, and played the first song.
I was relieved; the sounds were right, natural. Although I did question the choice of the opening song for the album, it got me right away, and kept my interest for the whole walk - working out perfectly for an extended summer jaunt with my old dog. The second song "Lickety Split" propelled the vibe, in an Oliver Nelson type harmony with rich 4ths and 5ths in the left hand. This is a signature sound for Yoko, with a strong and meaty feel despite a flourished mastery that veers away from the academic with strong story and history.
Perhaps I have a soft spot for friends, but it was great to hear back to those old session, the track "After You" particularly was reminding me of how we played - how we heard each other back then, the relationships we developed, the grooves we swiped from Keith Jarrett, and melodies we cribbed from Monk. Anyhow, I feel like this album achieves the monumental task of earning a significant place in the pantheon (which is admittedly growing exponentially), but this is some real shit.
I especially dig how they interpret the Beatles' Dear Prudence. This is an important mission in jazz, the legislation of the new standards. The illumination of the sacred Rock n' Roll of the sixties and seventies, perhaps in a more careful and less formulaic way then previous generations handling of Tin Pan Alley.
Dig it, get out to see some live jazz peeps.
Portland OR, brilliant sun.
Comments